Products and Availability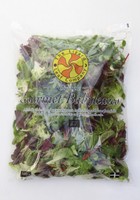 GOURMET BABYLEAVES
This is our premier salad mix for the catering trade with over twelve different types of leaf including Green and Red incised Batavia, Green Butterhead Lettuce, Red & Green Mizuna, Russian Kale, Tat Soi, Purple Pak Choi, Ruby & Green Frills, Land Cress and Red & Yellow Chard.



GOURMET BABY LEAVES are available exclusively from
West Country Fruit Sales
Plough to Plate

 LIZARD LEAVES
A decorative salad mix for retail sales with Red & Green Oakleaf, Red Butterhaed and Red Batavia Lettuces, a mix of oriental Brassicas, Ruby Chard and Land Cress.



Daily deliveries to retailers throughout Cornwall/Devon exclusively from
West Country Fruit Sales
Plough to Plate
Lizard Leaves are also available to Home Delivery Shoppers through the Cornish Food Market
The first leaves of the season are ready for harvest in April and the last cuttings take place in late October.
If you have any queries or questions on any of the leaves we grow please contact:

The Lizard Leaf Company Ltd
Tel:
01326 377856
(office hours) - 8 a.m to 5 p.m
24hr answerphone
Email:
lizardleaves@yahoo.co.uk